Editorial Posted by Naava on November 18, 2022
Best biophilic solutions of Orgatec Cologne 2022
ORGATEC – NEW VISIONS OF WORK
Orgatec is the leading international fair trade for workplace solutions. Held every two years in Cologne, Germany, it is the must-attend event for all office industry experts, such as architects, interior designers, planners, retailers, consultants, facility management providers, investors and users. Showcasing the latest trends and innovations, exhibitors all around the world gather together for networking and finding new inspirations.
We visited Orgatec 2022 to find how biophilic design has taken over the industry, and gathered some examples of the 686 companies from 43 countries presenting their furnishing, lighting, flooring, acoustics, media and technology solutions to the 45,000 visitors.
What is biophilic design?
Biophilic design is a concept in which natural elements are used in built environment to better support our biological needs.
By integrating real nature, natural light and materials, shapes and colours around us, and by creating opportunities for physical activity, ergonomics, and sociability, we create surroundings our brains associate with life sustaining qualities and prosperity - this makes us happier, healthier, more productive and creative, and has an overall positive effect on our wellbeing and recovery. Read more about biophilic design on our blog post.
The most obvious way to bring nature indoors are plants. At Naava's stand you could see flexible, furniture-like green wall solutions ranging from small solutions you could even fit into a phone booth into a bigger, more stunning green surfaces.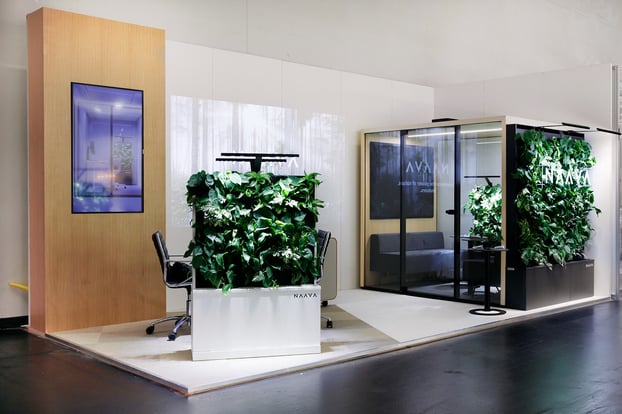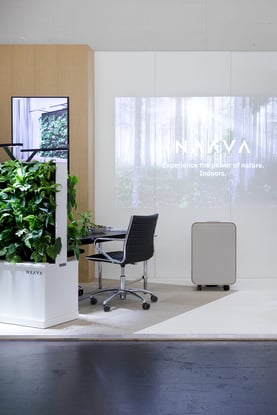 Biophilic principles were seen not only in the solutions the companies were presenting, but their stand design as well. Green walls and other nature inspired sets were used to create attractive settings to showcase different solutions. Like many other stands, ECOcero had a stunning green wall to catch the attention of any passerby's. There were many who had created natural scenarios with real trees, plants, soil, and other natural materials, such as the presentation of the chairs by Pattio, and the forest-like nook of the Cane-line stand.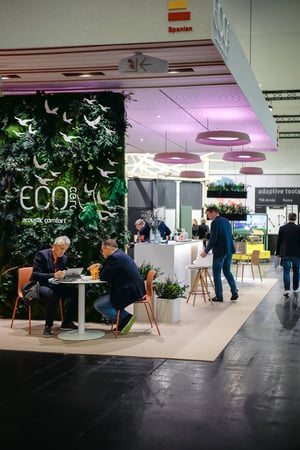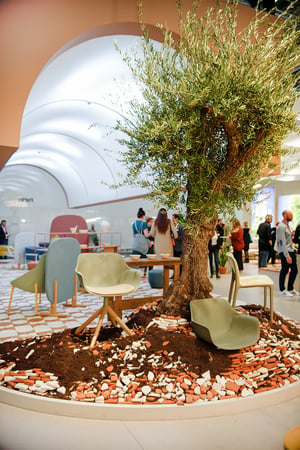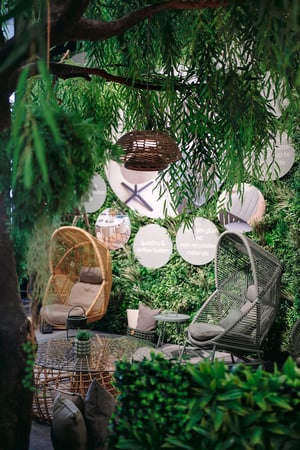 Sociability and interaction
One of the key aspects of creating a human-friendly spaces is encouraging sociability with interactive solutions. Adding multi-functionality into every-day objects with smart design and technology create delighting details, and transform working environments into an experience. One great example is set by Artome M10 all-in-one smart furniture that combines sound system, laser projector, videoconferencing features, and, of course, beautiful biophilic design.
The playful whales by Yanko Design act as a decorative feature, but with a closer inspection, are revealed as chairs that have convenient storing space and even hold your book for you!
Into Concept STORY WALLS combine many functionalities into one product: the movable, free-standing space dividers improve acoustics and come with variety of add-ons, transforming them into an interactive part of the space.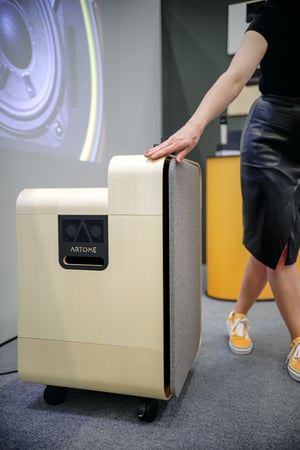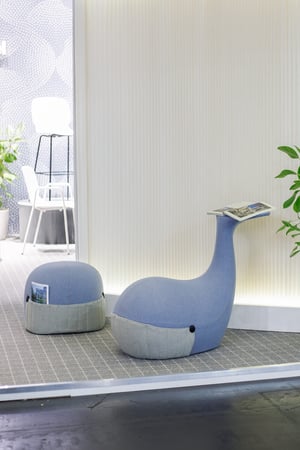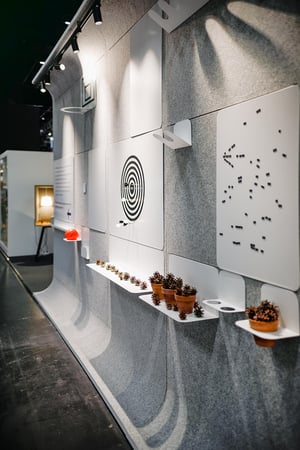 Biomimicry
Designing everyday functional objects with natural forms, colors, and patterns is one of the most visible and easiest ways to add biophilic elements into any kind of space. Nature has already provided the best forms for certain functionalities through millions of years of evolution, making it not only pleasing, but smart to use. Whether it is a tree-like shape for hanger such as the ones Jonas Ihreborn presents, or purely decorational as a pattern on a wall, nature-inspired design is sure to be visible everywhere we look at the modern working places. Just take a look at all the other section on this article with this in mind!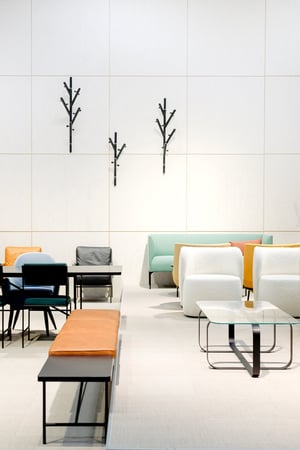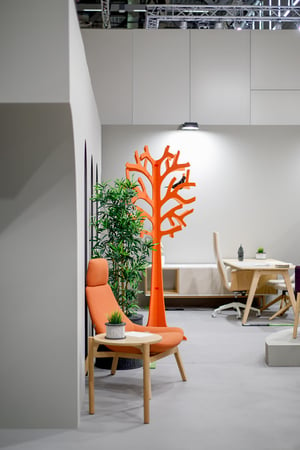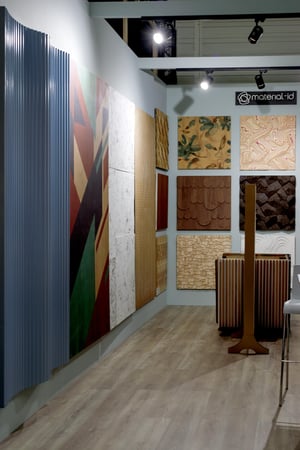 Sound and acoustics
A well-thought soundscape creates a holistic experience for the whole space. Reducing echoes by adding elements that absorb or disperse sharp noises affect our ability to concentrate and and also affect the way we feel about the space in general. Large, soft surfaces, such as plants, fabrics, or partitions are great ways of improving the acoustics within the space, and offer very creative solutions.
Caimi sound-absorbing Snowsound products mimic organic shapes by breaking the rules of regularity. Our brains are tuned to prefer this kinds of natural patterns that instead of inorganic, artificial shapes. They act as an individual design elements own their own, but adding acoustic features to otherwise functional products, such as furniture, is a smart way to improve the comfort of the space. Slalom acoustics have taken the biomimicry a step further by also creating acoustic partitions that closely resemble real plants.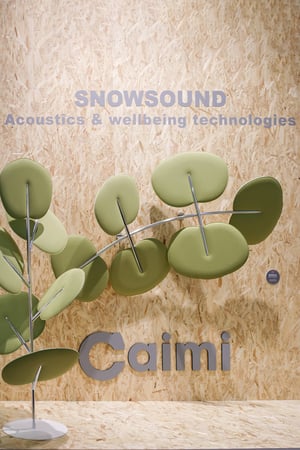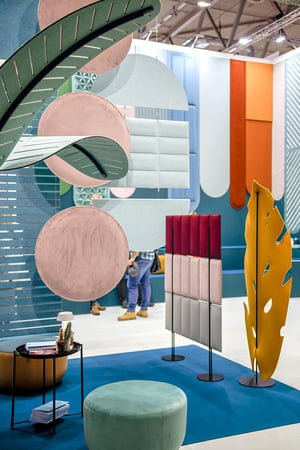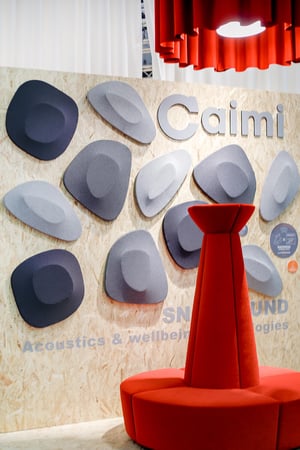 Feeling of space
The stand of Infiniti design created a unique, forest like feeling with the wooden poles used as space dividing elements, that kept the visibility throughout the space, but also a sense of privacy. Tuna Ofis promoted flexibility and empathy in the new way of thinking when it comes to office design: their product design defines its own space, creating a personal resting and waiting areas.
Different types of booths for concentration and relaxation had taken over a big portion among all of the different office solutions - that would be a whole other topic to discuss!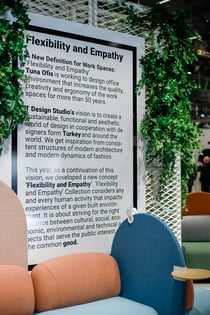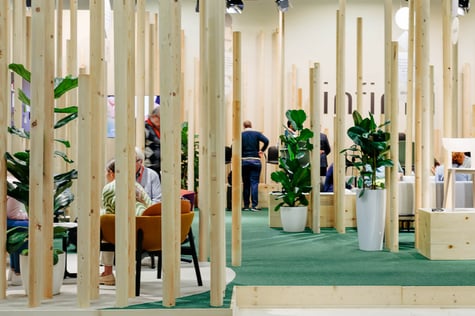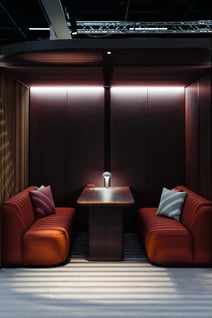 Sustainability
While not a part of biophilic design itself, it is impossible to not include sustainable thinking into the concept. Sustainable materials and solutions had a big influence in the overall exhibition of Orgatec, becoming on of those must-haves instead on nice-to-haves in any office solutions. At the Umage stand you could see the process of how recycled materials, in this case, plastic bottles, are turned into thread that is used in their furniture, and at the Vepa the furniture factory stand you could see how hemp and resin are turned into biomaterial, which then transfoms into a chair. Sustainability is not only about materials though, but processes, recycling, services, and for example, subscription plans.