Editorial Posted by Naava on June 13, 2022
How a Plant Wall Contributes to Better Indoor Climate
Did you know that the effectiveness and benefits of plant walls have been scientifically proven?

A recent Gensler report confirms the vision we at Naava have been working towards for years now: the future of cities and buildings must be rooted in human health and wellness. As we slowly return to office environments, the quality of indoor air should be a priority both for developers that build office buildings and companies that inhabit them.
Various studies identify indoor pollutants as having considerable health implications on human beings within the built environment. Contemporary urban populations spend approximately 90% of their lives in these spaces, exposed to volatile organic compounds (VOCs). These anthropogenic pollutants contribute to poor-quality indoor air.


Technologies for Reducing VOCs are Not Effective
Many technologies exist aimed at reducing indoor VOCs. They include ozone generators, photocatalytic oxidation purifiers, absorption filters, and ionizers. Most of them are usually expensive and only remove a constrained number of VOCs. Their side effects include producing harmful by-products.
This closely explains the shift to indoor air purification techniques, with a focus on potted plants. Research into the efficiency of an indoor green wall has been prevalent in recent years. Some little evidence shows that active green walls are effective in biofiltration to remove volatile organic compounds found within the interior environment.


Assessing the Biofiltration System
In an assessment to determine the functional performance of biofiltration systems, commercial active living wall biofilters were in use, specifically from Naava.


This free-standing interior plant wall is a system with two practical components:
An inorganic growing medium that supports plant viability: It also comprises activated carbon to help in VOC removal and acts as a biofilter that draws ambient indoor air with an integral electric fan.
A system of 63 plants that grow horizontally from a circular compartment in the front vertical face of the casing: The plants are popular in indoor plant wall systems. This formed the basis of their selection and not their ability to remove VOCs.


MEK, a VOC commonly found in interior environments, was used as the challenge gas in the assessment to validate the test methodology and removal performance. The results showed a significant difference between inlet and outlet concentrations of MEK during the biofiltration measurement trial.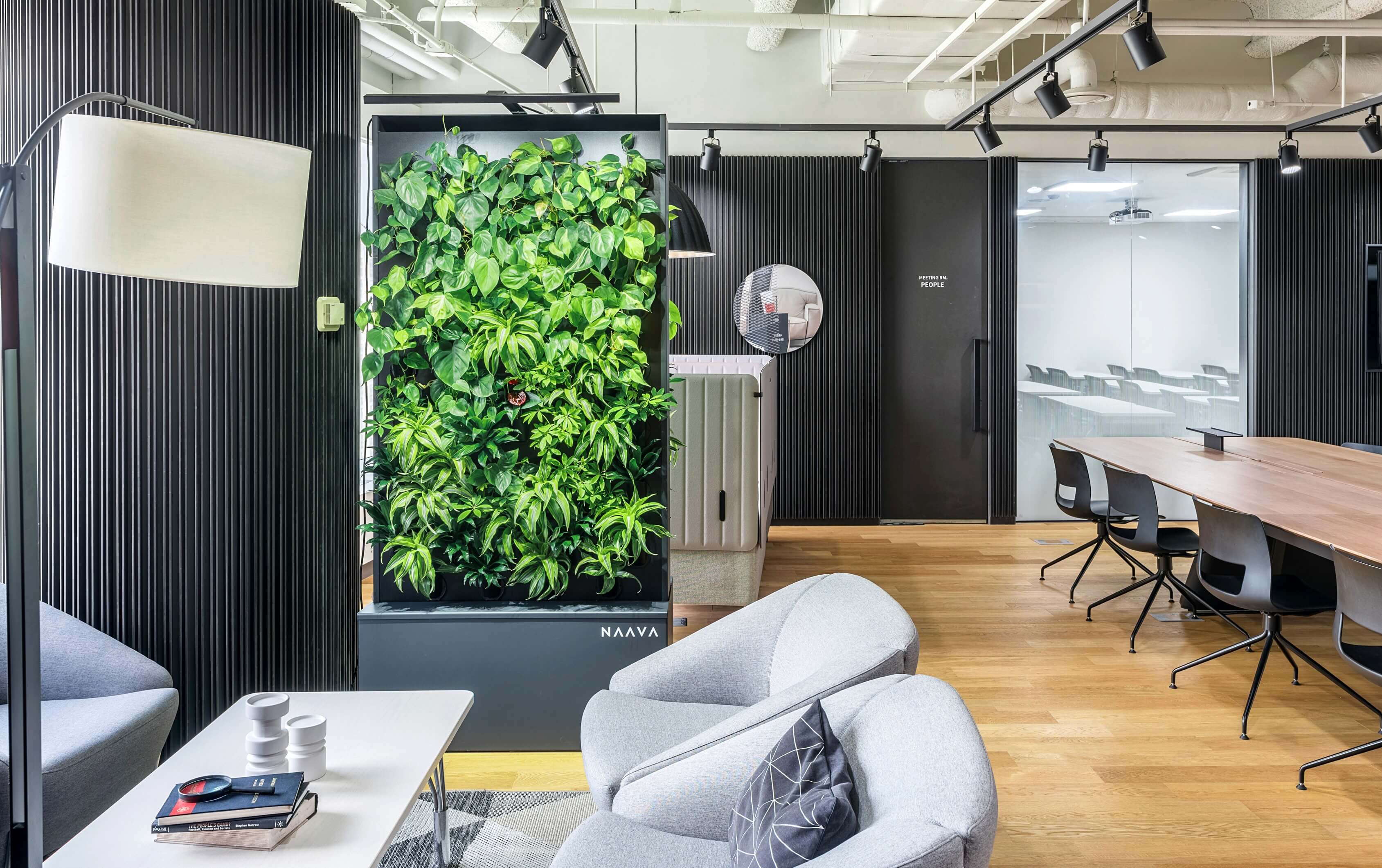 Case Studies into the Effectiveness of Plant Walls
A separate study based on a survey of 605 employees in 18 different places wanted to establish the effects of FreshWall on the working environment. The employees' task was to rank working conditions and personal health. The survey took place before and a couple of months after using FreshWall in the workplace.


The research questions were:
What effects does using FreshWall have on working conditions?
How does the usage of FreshWall affect employees' health?


Researchers analyzed the common effects of both research questions with linear mixed models. The assumption was that response variables were averages of many conditions or health questions. Personal information was also a covariate in the equation.


The results showed that common working conditions and the general health of the employees significantly improved in the course of using FreshWall. The most significant improvements in working conditions were:
Dry air
Low temperature
Stuffy air
Smell of mildew


The symptom that reported the most significant improvement was tiredness. The assumption is that all these health and working conditions changes were because of FreshWall and not a possible placebo effect under control. A co-source of the changes could be seasonal changes in the environment.
Benefits of Plant Walls
Plant walls are among the latest nature-based trends in interior design. They're healthy and beautiful, and their benefits far outweigh the costs and maintenance. In addition to the benefits demonstrated through research studies, bringing nature into the cities is a critical component for a sustainable future. Green infrastructure can be the target that brings plants to the very places where they're needed and where their value counts.


No other cladding material can provide these combined benefits at an affordable cost:
Air purification
Decreased ambient temperatures
Noise reduction
Improved sense of well-being
Increased productivity and creativity
Improved biodiversity
Attenuation of rainwater
Improved infrastructure value
Creation of a sense of community
Health benefits


Greener buildings provide better value, with studies showing that city buildings increase in value the closer they are to green spaces. For example, hotel rooms overlooking an outdoor living wall or green space command higher rates than those overlooking a car park. As environmental concerns become increasingly more prominent in personal and professional lives, plant walls are a commitment to sustainability.


Better Focus on Naava Plant Wall
Case studies show that a room with Naava positively affects feelings like happiness while it helps improve stress feelings. Naava smart green walls effectively decrease the chances of mistakes by approximately 41% in tasks that call for high cognitive brain performance.


The results of the case study prove that plant walls can lead to
Increased heart variability as an indicator of better recovery from stress
An increase in environmental comfort
Decreased levels of cortisol or the stress hormone
Increased levels of oxytocin or the feel-good hormone
Fewer mistakes in tasks that demand high concentration


If you want to transform your urban or office environment for improved air quality, an excellent place to get started is with the plant walls. At Naava, we can help you achieve this effect using our fully automated products that combine nature's beauty with modern technology.
Contact us today to schedule a consultation on how to bring nature and its fresh air indoors.