Editorial Posted by Naava on May 5, 2017
Pure is the New Black
How a wellness store enhances well-being with natural cosmetics, supplements, and treatments
The ever-growing trend of all things natural and pure has made its way over from keeping your body clean with the right kind of food and exercise to enhancing well-being through natural cosmetics, supplements and treatments. Wellness store, PUR, was founded to offer alternatives for advancing one's well-being as purely and naturally as possible.
Fittingly, the name is a play on the word 'pure', representing the company's main value: providing people with the purest products of the highest quality. "At PUR, we want to find new ways of helping people and enhancing well-being," said PUR's nutritional therapist Eijaliisa Koivu and eco beauty therapist Rosi Sotkasiira.


Quality and expertise in nature's terms
The bar is set high - not every product makes the cut to PUR's selection of natural products and treatments. The staff tries out all the new products themselves before putting them on the shelf, in order to make sure they are the best of the best.
In addition, new selections of products are constantly being introduced to keep up with the times and international markets. "This way we can guarantee that whatever the customers are buying is first-rate," explained Rosi.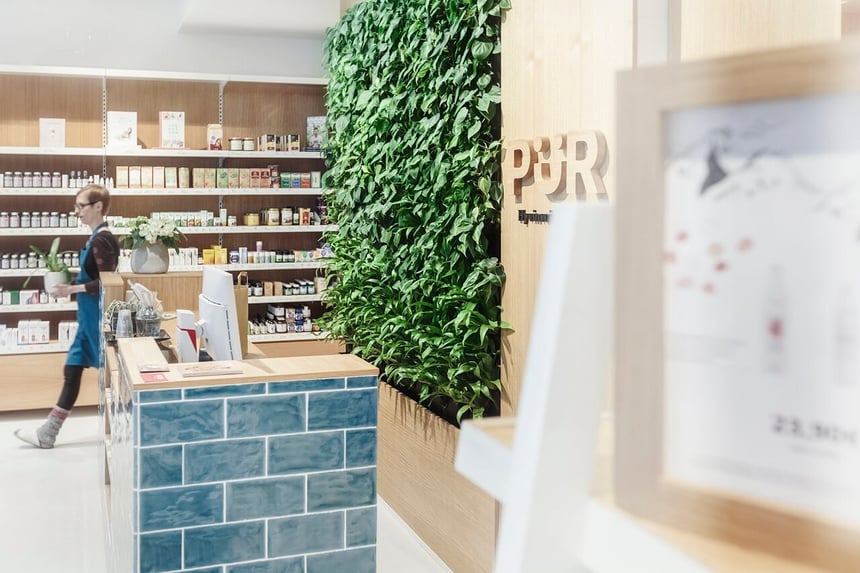 PUR has a wide range of different wellness related products. In addition to complementary medicine and natural cosmetics and supplements, the store also sells wellness books and detox cleanses, to name a few.
Moreover, they also do treatments, such as probiotic skincare treatment and ayurveda treatment, which care for the customer holistically. "Interest in pure, organic and natural products has been on the rise at the moment, and customers are now on the prowl for vegan supplements and cosmetics," noted Eijaliisa and Rosi.


Expert guidance is key
PUR does not just aim to get people using natural products, but for them to understand how and why the use of natural products and treatments can help them in feeling better. In order to achieve this, PUR offers expert services to aid customers in deciding how to best enhance their well-being naturally.
"Wellness products are available almost anywhere you go. The important thing is to choose the ones of the highest quality. Worst case scenario is that a cheap, weak product could even harm the body instead of aiding it," noted Eijaliisa.


Guiding people in the choice and use of products is at the core of how we operate.

All of the staff members have their own unique set of skills. For instance, a nutritional therapist guiding supplement use, an eco beauty therapist helping you choose the right skin care and beauty products, and a doctor specialising specifically in ayurveda treatments. There is something for everyone at PUR.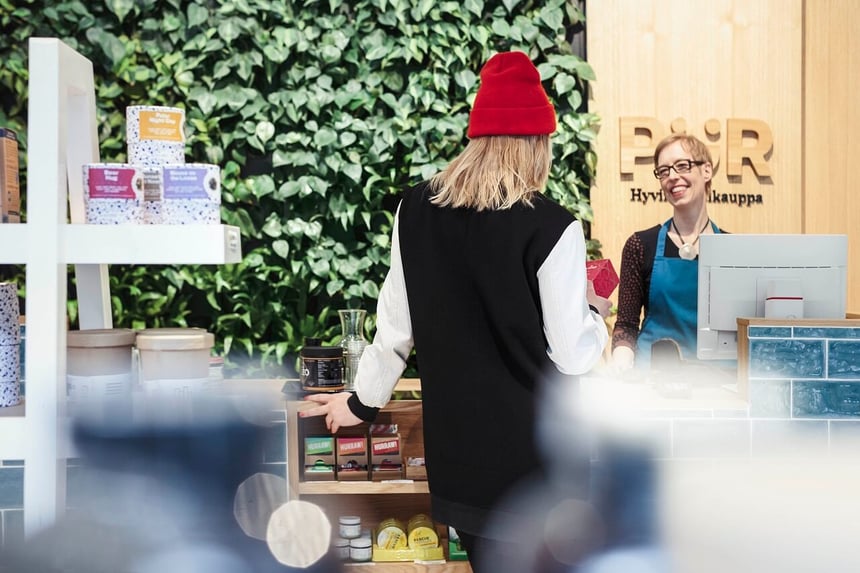 "PUR has a reputation of providing expert guidance of product use," pointed out Rosi, explaining how customers often come and ask for tips and advice. "Then there are also the customers who are experts themselves and teach us a thing or two," she chuckled.
This goes to show how the staff of specialists at PUR are constantly working towards having the latest knowledge in health and well-being products and services.
Complementary medicine
What?
Holistic improvement of health and prevention of illnesses

Both traditional and modern science based treatments advancing human health

Focal point in the prevention of illnesses and in finding the natural balance of the body

Working together with conventional medicine, not excluding each other
For whom?
For both fans of well-being as those with a more casual interest. For people who want to take care of their health preventively and respecting the body.
Who can help?
Every complementary treatment usually has its own union, which often has information about therapists available on their site.
Feel-good space for a feel-good service
PUR is a family company and an independent chain store with multiple locations. All of the premises have very distinctive looks. While the stores, whose concept was designed by a creative agency, stay true to the brand, they have been furnished with different individual touches. The furniture has been custom-made specifically for PUR, to offer the spaces individuality and distinctiveness.
The stores have plenty of natural elements to make the spaces look the part for their products and services. Shades of white and turquoise are preferred, together with wooden-like elements all around the store. The store's goal is to look cozy and soft, and to offer experiences and inspiration to the customers.
However, the real attraction of one of the stores is its Naava smart green wall. The custom-made Naava Designer is coated with an oak element to seamlessly integrate it to the rest of the store.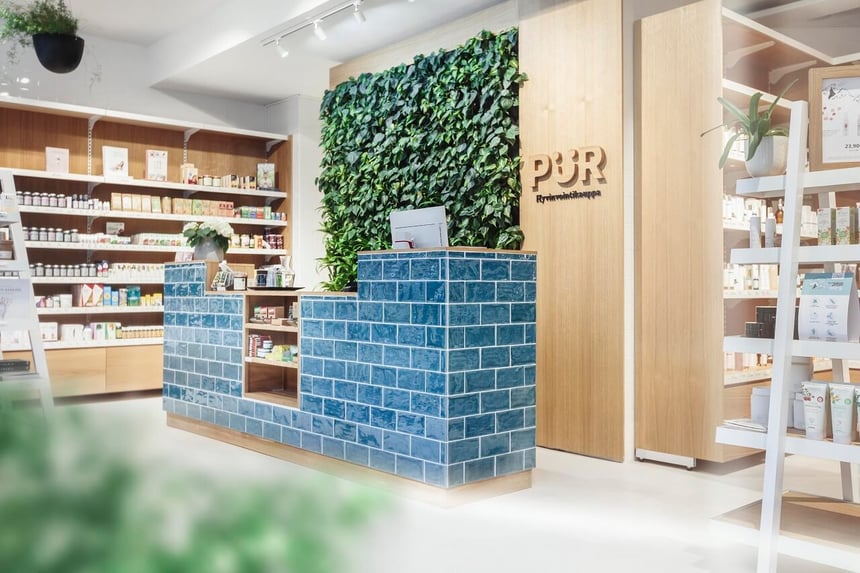 "Naava is great for embodying PUR as a pioneer of wellness expertise. At the same time it also makes the customer experience more memorable," described entrepreneur Anu Pekkonen.
"We had thought about acquiring a green wall for the space from the start, but Naava seemed like an ingenious alternative to regular green walls with its air purifying effects," Anu explained.


Because of Naava's health advancing effects, it really complements what we stand for.

Presentation and other visual elements of the store are a vital part of PUR, which is why an eye-catching green wall is a great addition to the store's natural look, and receives numerous glances from the customers on a daily basis.
With the space itself being so full of white, bleak surfaces, Naava brings the store to life with its natural shades of green. "I cannot think of a better place for Naava than this," said Rosi.


Do you want to create your own space of well-being?
Leave us a message and we will get back to you on how to transform your own premises to support health, well-being and productivity.