News Posted by Naava on 2019/02/13
Naava gets a new CEO
Press release February 13, 2019
Naava's co-founder and long-time CEO Aki Soudunsaari becomes Strategy Director and long-time KONE employee Arttu Salmenhaara becomes the new Naava CEO.
Finnish health technology company Naava's Board of Directors have decided that as of Feb 12th Executive Chairman Arttu Salmenhaara will start as the new CEO of Naava, therefore leaving the board and executive chairman role. The initiative came from Aki Soudunsaari.
"I'm very excited about this change. I'm proud of being able to lead Naava as CEO this far and to great achievements: making Naava an international health technology company in a completely new field of industry i.e. biological air purification, creating one of the best workplaces in Finland, building a Naava Tribe of 2000 Nordic investors with €10M in investments in the company, creating a strong brand with a resonating mission and vision, receiving numerous innovation and design awards, not to mention having such great employees, partners and over 500 amazing customers," said Aki Soudunsaari, Naava co-founder and strategy director.
He continued: "As an endurance sports athlete I'd say the situation is similar to 50km cross-country skiing: I've lead the pack for 30km and now it's time for a fresh lead with new energy and skills. Arttu Salmenhaara's several decades of experience from leading a business in several countries with a business model similar to Naava's is extremely useful for us. As board chairman he proved to be a true Naavarian who shares the company values and mission. In addition, he has personal experiences with how air pollution and disconnection from nature are true challenges in the world's megacities."
"My 20-year experience from KONE with a similar business model, is beneficial for Naava in this next growth phase: developing new technologies and selling a product with a service in the built environment. On a personal level, I've seen first hand what unhealthy air and disconnection from nature due to urbanisation can do to people. The need for a functional and visual product like Naava is immense. As the modern human spends so much time indoors, the built environment should be designed to be as natural and wellness-enhancing as possible," said Naava CEO Arttu Salmenhaara.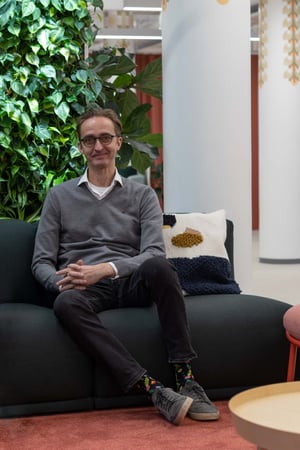 Arttu Salmenhaara's bio:
Naava angel investor since 2016

20-year experience in leadership positions at KONE, mainly in the Asia-Pacific region and Middle East.

Specialized in leading quick market growth, strategy, sales, service business models and working with building owners, designers, developers and construction companies.

With his wife owns Living Food Lab vegan food company in Indonesia, which is responsible e.g for the food service at renowned Green School Bali.

Acted also as board chairman at Finnish Business Council in Singapore.

For more info https://www.linkedin.com/in/arttusalmenhaara
NAAVA IN SHORT:
Company founded in 2012 in Finland to reconnect humanity with nature with over 40 employees in the Nordics and the USA.

Naava is no ordinary green or plant wall – it is a piece of furniture that promotes wellbeing, a biological air purifier, humidifier and, when needed, a space divider all in one.

Naava is an intelligent green wall: its functions are driven by technology and it is automated. Naava has received numerous design and innovation awards.

Naava is the world's most researched green wall and its purification power has been proven in several peer-reviewed studies.
Contact details:
Aki Soudunsaari, Co-founder & Strategy, aki@naava.io, +358 40 822 6322
https://www.linkedin.com/in/soudunsaari/
Arttu Salmenhaara, CEO, arttu@naava.io, +358 50 520 5970
Additional material
Read all our latest press releases and download images https://www.naava.io/for-media
Naava
Naava is a Finnish health technology company founded in 2012 to reconnect humanity with nature in the built environment. We develop intelligent Naava green wall furniture products, which bring the benefits of nature indoors. Naava is more than a beautiful living wall: it's also an efficient biological air purifier, humidifier and space divider. Wherever you are should always feel like a walk in the park. Indoors too. All you have to do is: breathe. naava.io