News Posted by Naava on 2018/03/12
Science-backed Finnish green wall innovation is a quantum step for healthier indoor spaces
"Naava has the potential to revolutionize the way we perceive indoor environmental quality"
Naava is an award-winning Finnish furniture innovation, which combines the benefits of nature, future technology and Scandinavian design to provide healthier, happier and more inspiring indoor spaces.

Commissioned by wellness real estate company Delos, independent UK-based research institute BRE and University of Technology Sydney (UTS) studied how Naava green walls purify indoor air. In addition, Finnish universities and research institutes have researched Naava's air purification capacity.
Helsinki, Finland - 12.3.2018 - The future of office design has begun to turn "outside-in" as the best of the natural world begins to infiltrate our interior environments. From Amazon's recently opened plant-filled office in Seattle, WA to Google's biophilic Chicago headquarters, this movement is taking shape in some of the most innovative organizations and offices in the world. Finnish health tech company Naava aims to expand this movement through its revolutionary "forest in a furniture" innovation, an intelligent and automated Naava active green wall. With over 1000 installations in the Nordics and the USA, Naava is the global leader in biological indoor air purification.
The innovation delivers a system of active biofilters which magnify the air purification power of plants and create fresh, natural air indoors, while also enhancing interior aesthetics through biophilia. Naava green walls revolutionize the future of the office environment, welcoming you to the great indoors.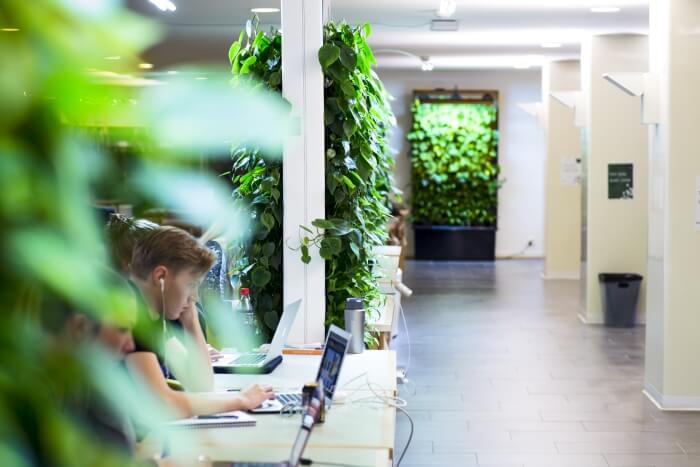 Leveraging research performed by NASA, Naava has created an air-purifying technology that actively draws air through the root zone of the plant to reduce harmful organic compounds often found in indoor air. Three separate, independent studies performed by BRE, the VTT Technological Research Center of Finland and two Finnish universities now demonstrate the efficiency of this revolutionary technology, showcasing that the Naava system not only exceeds pollutant removal expectations, it also dramatically surpasses the pollutant reduction capabilities of typical indoor potted plants and static green walls.
"Each respective study provides our customers with proof that Naava really has a measurable effect on indoor air quality. For those who have suffered the effects of poor indoor air; headaches, eye irritation, or respiratory problems that have caused cognitive function to be diminished, there is now scientific evidence of Naava's air purification capacity. We are proud to showcase the effect Naava may have on human health and wellness within the built environment," said Naava's head of research, PhD, Jarno Mikkonen.
INVISIBLE INDOOR POLLUTION IS AFFECTING OUR HEALTH
A new study published on February 15, 2018 in Science magazine concludes that everyday chemicals now rival cars as a source of air pollution. As people spend on average 90% of their time indoors according to the EPA, reducing the amount of chemicals in indoor air is paramount to human health. Naava green wall technology has been created to meet this modern need.
As urbanization increases and humans become disconnected with nature, a trend to deliver human health and wellness attributes within the built environment has emerged. Certifications bodies, such as LEED and the WELL Building Standard, have led the way in enabling the built environment to act as a vehicle to environmental and human sustainability and product manufacturers are taking notice, developing more eco-friendly, health and wellness focused products. Naava may very well be leading the way. By delivering biophilic elements, improved air quality, optimized indoor humidity and acoustical benefits, Naava green walls enable wellness inspired spaces and may contribute to achieving points within numerous features of the foremost environmental and human sustainability certifications.
By altering the typical methodology of placing green walls in lobby areas, Naava focuses on the development and installation of modular green wall systems which may be readily placed in occupied areas, maximizing the impact on humans throughout an indoor space. With over 20 Naava units installed at the new Delos headquarters at 860 Washington Street in New York City, Naava is leading the way in supporting and creating visual exemplifications of wellness throughout one of the most wellness-oriented offices in the world.
EXAMPLE CUSTOMER LOCATIONS WITH NAAVA GREEN WALLS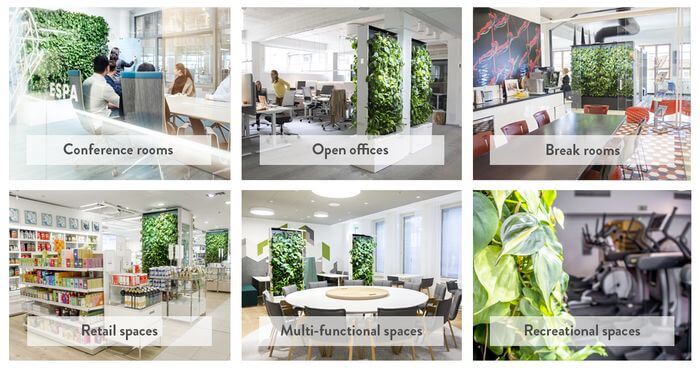 RESEARCH PROVES NAAVA IS AN EFFECTIVE AIR PURIFIER
Prior to partnering with Naava, Delos, a wellness real estate and technology firm, wanted to put Naava's pollutant reduction efficiency to test. Collaborating with world renowned test facility BRE and experts from the University of Technology Sydney Plants and Environmental Quality Research Group, Delos developed a rigorous single pass efficiency test protocol.
With exceptional results and a class leading test protocol, Delos, BRE and UTS collaboratively sought to publish the results to further the recognition of active green wall systems and the respective health and wellness improvements that may be offered by such systems indoors. The peer-reviewed research was published by the Air Quality, Atmosphere and Health journal and can be read here https://link.springer.com/article/10.1007/s11869-017-0518-4
The research proves that Naava actively reduces the tested chemical i.e. volatile organic compound (VOC) commonly found in household products*. Getting the same results in triplicate, on average 57%, is proof of the system working continuously, not by chance. This result was based on a single pass through Naava, and as air flows over and over through Naava and its biofilters, this result means that Naava is an effective air purifier, reducing harmful pollutants from the air.
How Naava green wall works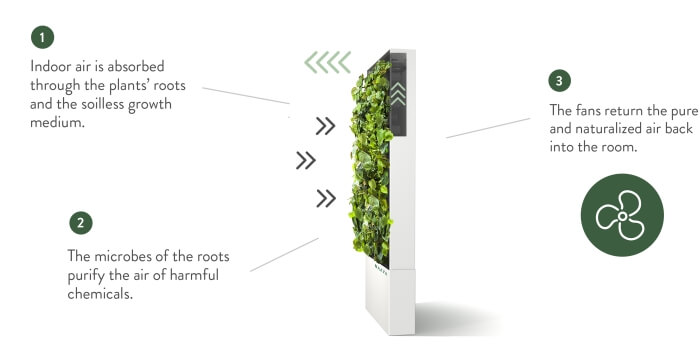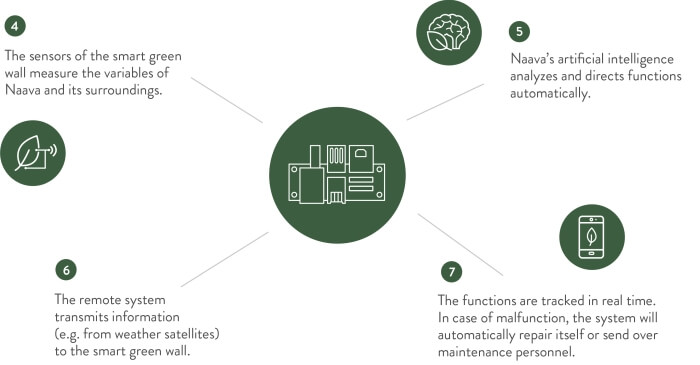 "This system has the potential to revolutionize the way we perceive indoor environmental quality. I feel privileged to be involved with research of this caliber, and strongly believe that this is a benchmark example of science and business working together towards making a more sustainable urban environment," Dr. Fraser Torpy.
A similar research result was reported by VTT Technical Research Centre of Finland: in their tests Naava filtered up to 65% of the two tested chemicals from the air with a single pass. Even under extreme chemical levels within the testing chamber, Naava was able to remove them with a single pass without the biofilter getting "clogged" as normal air purifiers often do. This signifies the importance of microbial communities within the biofilters, continually acting to degrade chemicals, theoretically creating a filtration system that never requires replacement.
NAAVA BIOFILTERS ARE FAR SUPERIOR TO HOUSEPLANTS
In addition, the University of Eastern Finland and University of Jyväskylä have jointly studied the purification efficiency of a single simulated Naava biofilter with air circulation vs. a static potted houseplant. In real indoor conditions, a Naava normally consist of over 60 Naava biofilters. In the chamber tests, which utilized a single simulated active Naava biofilter, chemical concentrations were nearly non-existent after one hour. The chamber with a potted houseplant without air circulation still had 80% of the chemicals left after 1 hour. Even after 24 hours the plant hadn't removed all of the chemicals.
The key is the active flow of air through the Naava biofilters, making the system far superior to houseplants in regular pots with no air circulation. This study is currently under peer-review for publication in an international scientific journal. (EDIT: the study has now been peer-reviewed:
https://jyx.jyu.fi/handle/123456789/59371)
NAAVA IN SHORT:
Company founded in 2011 in Finland to reconnect humanity with nature with over 60 employees in Finland, Sweden and the USA.

Naava is no ordinary green wall: it's a biological air purifier, humidifier, living wall, space divider and whiteboard all in one.

Naava is easily movable and fully automated. A piece of wellness furniture awarded with several design and innovation awards

New pricing: starts from €179 e/month ($209 for USA) per Naava One or Slim with a 2 Naava minimum with 36 months leasing.

WIRED UK just chose Naava as the hottest startup in Finland and one of the hottest in Europe. In addition, Naava is one of Europe's fastest growing companies according to Inc.

Naava units are currently sold throughout Finland, Sweden and major metropolitan areas of the United States.
Additional material:
Download our product brochure for more information about Naava: https://www.naava.io/download-materials
Read our latest press releases and download images https://www.naava.io/for-media
Watch Naava's founder and CEO Aki Soudunsaari explain why Naava exists: https://www.youtube.com/watch?v=eahOi7VeaB8
For more information:
Naava: Päivi Vuolle, PR and Communications, paivi.vuolle@naava.io,
+358 50 5354899
UTS: Dr. Fraser Torpy, director of the Plants and Environmental Quality Research Group and Senior Lecturer at the University of Technology Sydney, fraser.torpy@uts.edu.au
BRE, University of Jyväskylä & University of Eastern Finland: Please contact Päivi Vuolle at Naava for contact details.
*Language referencing USGBC, LEED and IWBI, WELL do not state or imply endorsement of Naava products.
---
Additional information
BRE
*The air purification effect was tested with one volatile organic compound (VOC) methyl ethyl ketone (MEK). MEK is an irritant, although it's used in household products such as lacquer, varnishes, paint remover, adhesives and as a cleaning agent, so it can be found in regular indoor air causing headaches, eye irritation, paraesthesia, and exacerbates the effect of other harmful chemicals.
"The test protocol developed, and the experimental test rig set up by BRE was used to test the Naava green wall system's ability to remove a chemical called MEK from the chamber air on three separate occasions, each time with fresh plants installed," Dr. Andy Dengel, Director BRE Environment.
The single-pass test protocol was used to test the Naava green wall system's ability to remove MEK from the chamber air on three separate occasions, each time with fresh plants installed. A single pass means that air flows through Naava and its biofilters once. The mean removal efficiencies - determined by measuring MEK concentration pre-wall and post-wall hourly for a period of 8 hours - were 56.5%, 55.1% and 58.5% respectively.
VTT
In this research, two different VOCs (toluene and MEK) were used. Read the test report here https://www.naava.io/science/vtt
JYU + UEF
The simulated Naava biofilters maximized air purification efficiency in both small and large chamber tests. The large chamber experiment showed that also the composition of the biofilter medium impacted VOC removal. Remarkably, the VOC removal results were very similar for the test's seven chemically different compounds, from 2-ethylhexanol to decane and benzene.